Euphorbia characias
'Portuguese Velvet'

Garden Plant Information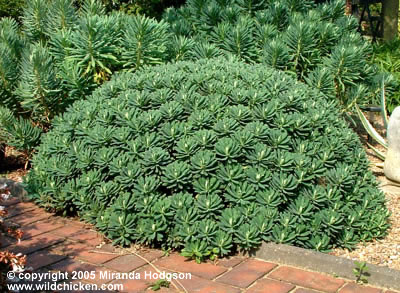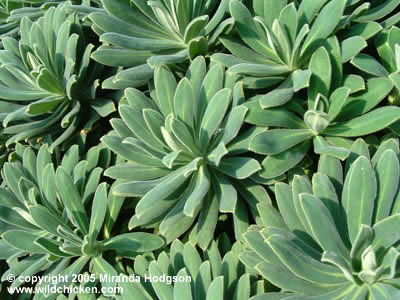 Name
Euphorbia characias 'Portuguese Velvet' (also called Spurge 'Portuguese Velvet')
Genus  
Euphorbia
Species
characias
Cultivar/variety
'Portuguese Velvet'
General description
Evergreen, low-growing, herbaceous perennial. Good for winter foliage. Drought tolerant so good for dry gravel gardens.
Season of interest
All year round.
Key horticultural features
Habit - low-growing, dome shaped. H: 90cm S: 90cm

Leaves - soft and velvety, grey-green. The tiny silver hairs on the leaves light up in low light, giving the appearance of a halo.

Flowers - bunches of pale green bracts produced, in spring, with brown-black centres.
Cultural details
Aspect
Full sun to partial shade.
Soil
Well drained, will tolerate poor soil.
Hardiness
Not fully hardy - plant in a warm sheltered spot.
Maintenance
May start to look scruffy after about five years but can be refreshed by division. Can be cut right back, when it will resprout from stems. Take care when working with this plant as the sap is irritant - wear gloves.
Propagation
By division or basal cuttings. May also self seed in mild areas.