Imperata cylindrica
'Rubra'

Garden Plant Information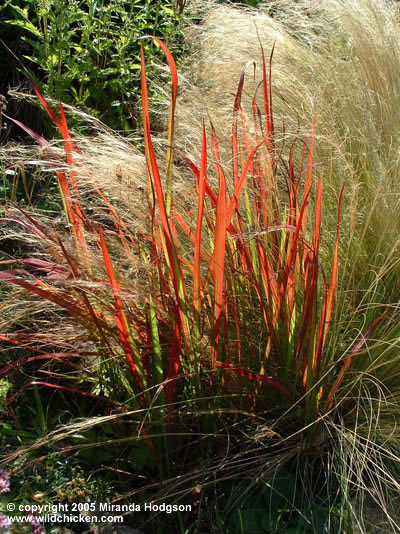 Name
Imperata cylindrica 'Rubra' (also known as blood grass)
Genus  
Imperata
Species
cylindrica
Cultivar/variety
'Rubra' (also called 'Red Baron')
General description
Clump-forming, ornamental grass grown for striking red-green foliage. Contrasts well with other grasses and green foliage.
Addendum
Recent reading strongly suggests that, in certain environments, Imperata cylindrica 'Rubra' can be very invasive, so care should be taken before planting it. From what I have read, when grown in warm climates, the plant is more likely to revert to its green state and to flower and when this happens, it becomes invasive and is known as cogon grass or cogongrass. It is not currently known what causes it to revert from a pretty garden grass to an aggressive and costly weed.
Imperata cylindrica 'Rubra' has been added to the U.S. Federal Noxious Weed List because of its ability to take over disturbed soils and out-compete nearby native plants, whilst also providing poor forage and shelter. Its dense, mat-like growth can also create a fire risk.
In the cooler climate of the UK it may not be a problem but, if you live in a warmer climate, you should think before planting and keep an eye on it if you have already planted it.
More information at http://wiki.bugwood.org/Imperata_cylindrica and http://ipetrus.blogspot.com/2009/05/invasive-species-search-imperata.html
Season of interest
Late spring to autumn.
Key horticultural features
Habit - clump-forming, upright, slow spreading. H: 40cm S: 30cm.

Leaves - blades are green at the bottom, shading to rich red from about half way up. They turn brown in autumn.

Flowers - said to be silvery-white, but mine hasn't flowered yet - after three years.  
Cultural details
Aspect
Full sun is best as the light shines through the grass blades very effectively.
Soil
Light, humus-rich, well drained but moisture retentive.
Hardiness
Hardy.
Maintenance
Water well in summer. Mulch in winter to protect plant.
Propagation
Divide in spring as plants start growing.