Dryopteris erythrosora
Garden Plant Information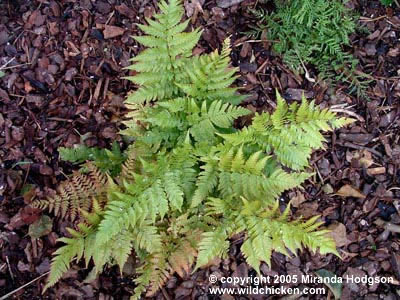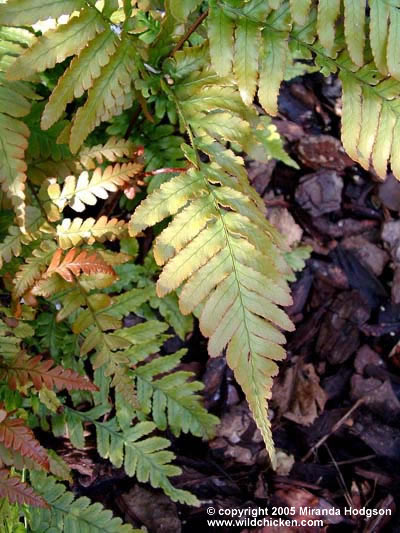 Name
Dryopteris erythrosora (also called Copper Shield Fern, Japanese Shield Fern and Buckler Fern, though this last can refer to several Dryopteris species)
Genus  
Dryopteris
Species
erythrosora
Cultivar/variety
General description
Clump-forming, deciduous fern with arching fronds. Easy to grow in shady areas where it looks very attractive in dappled sunlight.
The stems uncurl from the ground in spring and gradually open out, first looking like a bishop's crosier and finally opening out into elegant leaves. The fine leaves are tinged with copper when young and darken to green.
Season of interest
Arching fronds from spring to late autumn.
Key horticultural features
Habit - slow-growing, forming a compact clump. H&S: 1m.

Stems and leaves - arching fronds about 75cm long. Leaves are triangular with rounded triangular leaflets which last until winter. Young growth is a glossy copper-pink, turning green as it matures.
Cultural details
Aspect
Partial shade. Looks good growing in the dappled shade of trees.
Soil
Moisture retentive, humus rich.
Hardiness
Hardy.
Maintenance
Remove dead or damaged fronds as needed. Leave old growth on through winter to protect the plant and then remove them in spring to allow light and air to reach the new fronds - removing old fronds will allow you to appreciate the new growth as it uncurls. Mulch and water well in first season if planted in dryer soil.
Generally pest and disease free.
Propagation
Divide in spring. Can also be propagated from spores but may not breed true and will take up to two years to be ready for planting out.