Euphorbia
Redwing

=

'Charam'


Garden Plant Information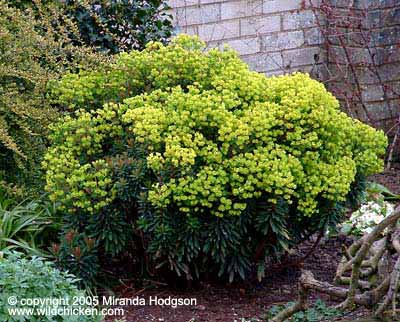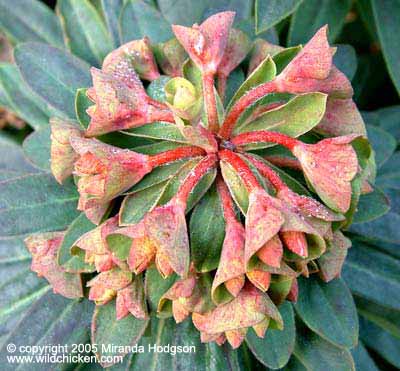 Autumn buds.
Name
Euphorbia Redwing = 'Charam' (also called Euphorbia Redwing and spurge Redwing)
Genus  
Euphorbia
Species
Cultivar/variety
Redwing = 'Charam'
General description
Roughly mound-forming herbaceous perennial, with blue-green leaves and bracts and flowers held in dense clusters. Good for early spring colour, especially in early morning light, when the lime green bracts appear almost neon. Suitable for mixed borders, low maintenance, gravel and Mediterranean gardens.
The flowers attract insects.
Season of interest
At its brightest in early spring, when the bracts open. During winter the plant takes on more reddish tones.
Key horticultural features
Habit - upright, tending towards a dome shape. H&S: up to 75cm.

Stems - rounded, fleshy and slightly brittle, red tinged. The stems exudes an irritant milky sap when broken.

Leaves - no petioles, narrow, slightly succulent, green-blue. Young growth is tinged with red.

Flowers/bracts - dense clusters of very bright lime-yellow cup shaped bracts, borne on red stems, hold tiny flowers which open in early spring. The buds appear in late autumn, starting green, then turning red before opening.
Cultural details
Aspect
Sun to partial shade. East, west or south facing.
Soil
Well drained, light.
Hardiness
Hardy, but in cold or frost-prone areas plant at the base of a wall.
Maintenance
Cut back old flower heads to ground level in summer or autumn to promote next year's flowers.
May be affected by aphids and grey mould.
N.B. This plant exudes an irritant milky sap, so always wear gloves when working with it.
Propagation
Divide in early spring or take basal cuttings in spring and summer. To prevent the cuttings bleeding sap, dip them in lukewarm water or powdered charcoal.