Narcissus cyclamineus
Garden Plant Information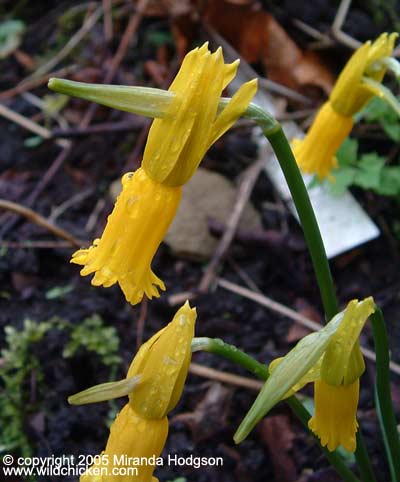 Name
Narcissus cyclamineus (also called cyclamen-flowered daffodil)
Genus  
Narcissus
Species
cyclamineus
Cultivar/variety
This may be the specie or a cultivar; will update when info available.
General description
Hardy, deciduous, bulbous perennial, this is one of the shorter daffodils of the Narcissus family. Grown for bright yellow flowers which appear in early to mid-spring, they give good colour when little else is flowering. Suitable for borders, naturalising in grass, under-planting of shrubs, containers and for cutting. Attractive to insects.
This daffodil has been used to good effect at RHS garden Rosemoor (at Great Torrington, in North Devon), where it has been propagated for several years and now grows in large naturalised groups in several different settings.
Season of interest
Flowers in early to mid-spring.
Key horticultural features
Habit - upright. H: up to 20cm

Leaves - narrow, strap-like, bright green.

Flowers -  bright yellow with reflexed (turned up and back) segments and slender trumpets with an out-turned serrated frill at the end.
Cultural details
Aspect
Sun to partial shade.
Soil
Well-drained but moisture-retentive during the growing season, moderately fertile, acid to neutral.
Hardiness
Hardy.
Maintenance
Deadhead after flowering and allow flowers to die down naturally. Take care when handling foliage and bulbs and this plant is irritant.
Propagation
If other Narcissi are being grown, they may hybridise so any seed-raised plants will not come true. Propagate by separating off the off-sets and replanting or by scaling.