Lysimachia nummularia
'Aurea'

Garden Plant Information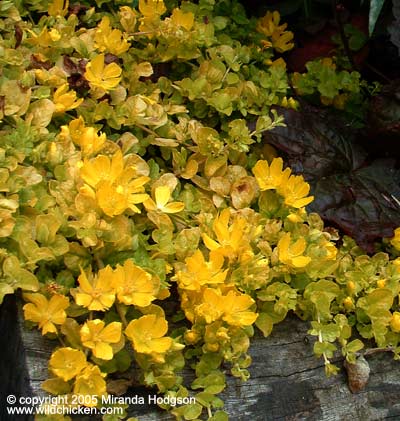 Genus  
Lysimachia (also called creeping Jenny and golden Jenny)
Species
nummularia
Cultivar/variety
'Aurea'
General description
Mat-forming evergreen perennial grown as ground cover and used in summer containers. An attractive and bright plant, but be careful where you plant it, if it goes in the ground, as it is extremely vigorous and will try to take over the planet if you look away for five minutes. In the ground it can be useful near bog gardens or as edging.
In my opinion it's better used for a container, where it will trail very prettily, unless you really, really like it or have a lot of space.
Looks wonderful next to purple leaved plants such as Heuchera 'Palace Purple'.
Reputedly immune to rabbits.
Season of interest
Gold-green leaves all year round, yellow flowers in summer.
Key horticultural features
Habit - low-growing, mat-forming. H: 8cm S: seemingly unlimited.

Stems - thin, pale green, slightly brittle. The stems root into soil easily.

Leaves - round to oval, opposite, light golden-green.

Flowers - cup-shaped, bright yellow, borne singly along the stems, about 2cm across.
Cultural details
Aspect
Full sun or partial shade.
Soil
Prefers moist soil but isn't fussy.
Hardiness
Said to be hardy down to -25.
Maintenance
Trim regularly if you want to keep it small.
Generally free of pests and diseases.
Propagation
If containerised, take stem cuttings in spring or peg down stems to the compost, where they will root easily. If it's in the ground it will propagate itself quite easily by means of .