Ilex aquifolium
'Bacciflava'

Garden Plant Information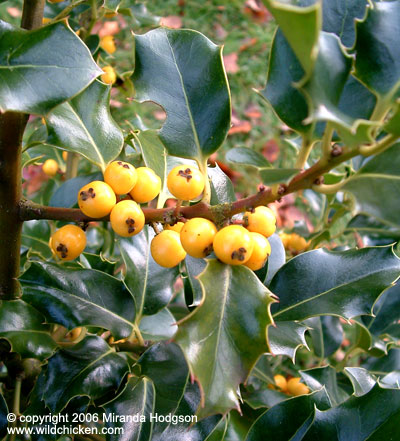 Name
Ilex aquifolium 'Bacciflava' (also called yellow fruited holly)
Genus  
Ilex
Species
aquifolium
Cultivar/variety
'Bacciflava'
General description
Evergreen shrub or tree grown for rich glossy leaves and abundant clusters of bright yellow berries. This is a female holly and will need a male tree growing nearby for it to fruit. Slow growing (hollies grow about 15cm a year, on average) so good for low maintenance. Useful for hedging, as a barrier or as a specimen. The glossy leaves and yellow berries are great for lighting up shady areas.
If you're looking for a bright winter display, try combining with Cornus mas.
The birds will eat the fruit only after their preferred red and orange berries have all gone, so the berry display will last well.
Season of interest
Evergreen so all year round. Small flowers in spring and berries in autumn.
Key horticultural features
Habit - upright and dense . H: up to 3m. S: up to 4m.

Leaves - elliptic with spiny edges. Thick, glossy, slightly waxy, dark green.

Stem - round and smooth. Young stems tinged with purple/pink.

Flowers - small, usually white, four-petalled flowers are followed by clusters of bright yellow berries.
Cultural details
Aspect
Will grow in sun or partial shade. Does well in Quercus (oak) woodland, growing as under storey.
Soil
Well-drained/light, Clay/heavy, Acidic, Chalky/alkaline, Sandy.
Hardiness
Fully hardy.
Maintenance
Trim hedges once in late summer. Responds well, if slowly, to hard pruning.
Propagation
Slow rooting, so you may want to use a rooting hormone to speed things up. Layer branches or take short (about 8cm) cuttings, with a heel attached, in autumn.