Hamamelis
x

intermedia

'Diane'


Garden Plant Information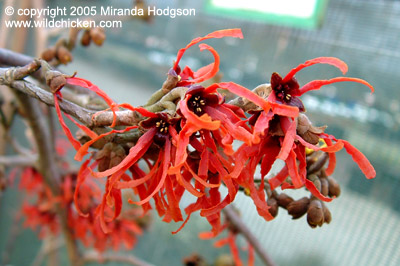 Name
Hamamelis x intermedia 'Diane' (also called witch hazel 'Diane')
Genus  
Hamamelis
Species
x intermedia
Cultivar/variety
'Diane'
General description
Broad-crowned, deciduous shrub grown for richly coloured, fragrant, ribbon-like flowers and good autumn tints. Good for cutting, mixed borders, low maintenance,
Season of interest
Flowers in winter, foliage in summer and  autumn.
Key horticultural features
Habit - open and vase-shaped. H&S: 4m.

Stems - round, greyish-brown with a metallic tint.

Leaves - alternate, broadly ovate, mid-green in summer turning red and yellow in autumn. They open after the flowers.

Flowers - clusters of sweetly scented flowers hold petals resembling short, crumpled, ribbons in a rich, deep red-orange, with yellow stamens. Flowers appear on bare branches. A horned capsule containing two shiny black seeds follows flowering.
Cultural details
Aspect
Full sun to partial shade in an open but not exposed site..
Soil
Acid to neutral, in clay, loam or sand. Moist but well drained. Will grow in deep humus-soil over chalk.
Hardiness
Hardy.
Maintenance
Little needed, prune in spring to remove any crossing, dead or diseased branches. Mulch well afterwards with manure or compost.
Generally pest free but may be affected by coral spot.
Propagation
Sow seed as soon as it is ripe, though cultivars will not come true. Graft cultivars in late winter or bud in late summer.