Phlox paniculata
Garden Plant Information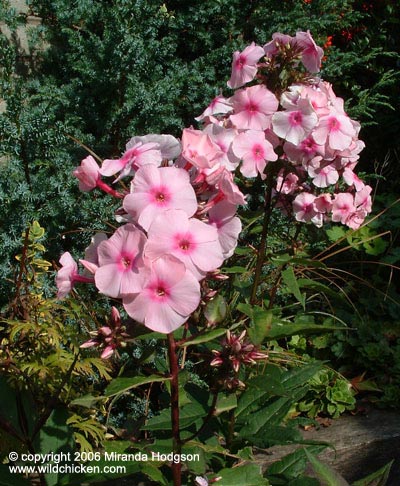 Name
Phlox paniculata (also called Perennial phlox)
Genus  
Phlox
Species
paniculata
Cultivar/variety
General description
Hardy herbaceous perennial, with sweetly fragrant panicles of pink flowers, borne from summer to mid-autumn. Lovely in cottage or informal gardens, good for cutting. Noted for attracting wildlife.
Season of interest
Flowers from summer to mid-autumn.
Key horticultural features
Habit - upright, though may need support. H: up to 1.2m S: 1m.

Stems - round, smooth, straight. Dark green, tinged with red.

Leaves - alternate, opposite, dark green, lance-shaped. Leaves lack petioles.

Flowers -  clusters of scented, salver-shaped, pale pink flowers open in summer. The centre of the flower shows a narrow circle of slightly darker pink. Flowers are borne in terminal panicles, on narrow stems that grow from the stem tip, and from the leaf apices nearer the top of the plant.
Cultural details
Aspect
Full sun to partial shade.
Soil
Moisture-retentive, fertile, otherwise not fussy.
Hardiness
Fully hardy.
Maintenance
Deadhead to prolong flowering season. In autumn cut the stems down to the base and mulch with compost or well rotted manure in early spring.
May be affected by slugs, snails, phlox eelworm and powdery mildew.
Propagation
Divide in spring or autumn, take root cuttings in early autumn or winter or take basal cuttings in spring. New plants take a couple of years to bulk up and get going, but once they're well established they have a good long season with plenty of flowers.