Clematis 'Warwickshire Rose'
Garden Plant Information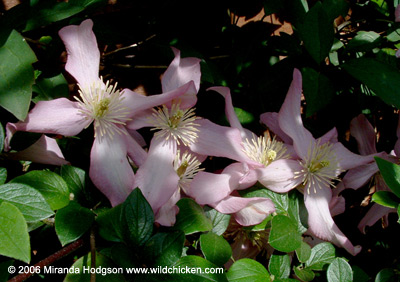 Name
Clematis montana 'Warwickshire Rose'
Genus  
montana
Species
'Warwickshire Rose'
Cultivar/variety
General description
Vigorous deciduous climber with pink flowers in late spring to early summer. Flowers are followed by attractive seed heads. Useful for covering fences, screens and structures such as sheds and garages.
Said to be a seedling from  C. montana 'Rubens'. Named by the finder, John Williams, who discovered it growing in his garden. He called the plant 'Rose', after his mother, and 'Warwickshire' for his home county.
Season of interest
Spring and summer.
Key horticultural features
Habit - climbing, by means of twining leaf stalks (petioles). Grows up to 7m in length.

Stems - slender, smooth, brownish-red, older stems tend to be brittle.

Leaves - tripartite (divided into three leaflets) and dark coppery-green. The paler leaf stems are able to twine around supports, so allowing the plant to climb. It cannot climb without support.

Flowers and seeds -  the flowers are not 'true' flowers in that they have petal-like rather than actual petals. C. 'Warwickshire Rose' has open, flat, flowers with four sepals which range from pale to darker pink, with the edges being slightly curled under. The flowers are lightly and sweetly scented on sunny days. The stamens and anther are pale cream. Flowers are followed by creamy-coloured, fluffy, seed heads.
Cultural details
Aspect
Full sun to partial shade.
Soil
Fertile, well-drained.
Hardiness
Fully hardy.
Maintenance
Flowers on last season's wood so shouldn't be cut back till after flowering has finished, though little pruning is needed other than to maintain shape. To renovate an older plant, cut back to 15-30cm (6-12 inches) of the ground.
Most Clematis like a cool root run so either plant with the base of the plant in shade, or grow another plant that will shade the base of it.
Propagation
By layering or semi-hardwood cuttings.