Fritillaria meleagris
Garden Plant Information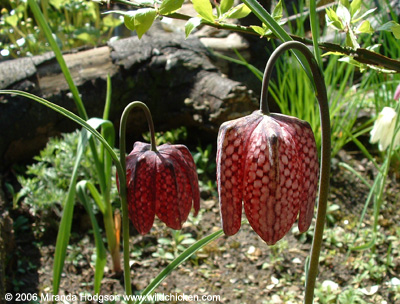 Name
Fritillaria meleagris (also called snake's head fritillary)
Genus  
Fritillaria
Species
meleagris
Cultivar/variety
General description
Bulbous herbaceous perennial grown for its nodding bell-shaped flowers which open in spring. These Fritillaries look wonderful planted in damp grass that is allowed to grow long for part of the year, and are also happy in rockeries.
There is a famous meadow of F. meleagris growing at Oxford's Magdalen College, which is meant to be well worth a visit in spring (I've been meaning to go there for years). The plants have been growing there since 1785 and, by careful management, have increased over the years. They can also be seen growing in RHS Wisley's alpine meadow.
An early flowering plant, it is attractive to bees and other flying insects.
Season of interest
Flowers in spring. The seed heads are also quite interesting.
Key horticultural features
Habit - upright. H: 50cm S: 10cm.

Stems - slender,straight and grey-green.

Leaves - lance shaped, grey-green.

Flowers - nodding heads, bell or bowl shaped, appear singly or in pairs. The tepals are patterned in an unusual checker board pattern, in shades of purple.
Cultural details
Aspect
All aspects.
Soil
Moist but well drained, fertile. The plant prefers cool, moist summers.
Hardiness
Fully hardy.
Maintenance
Little needed. Plants can be divided in autumn. When growing in meadows, restrict grass cutting till summer which will allow the seeds to fall and establish.
Propagation
By seed sown in autumn - the seeds need a period of cold over the winter to prompt germination. Bulb offsets can be taken in late summer.