Crocosmia
'Lucifer'

Garden Plant Information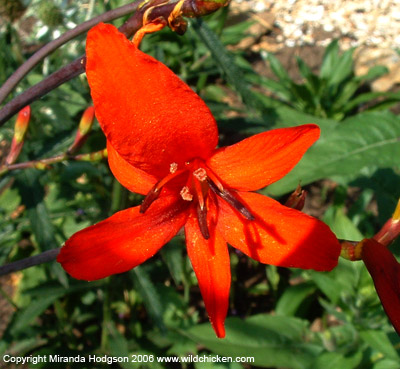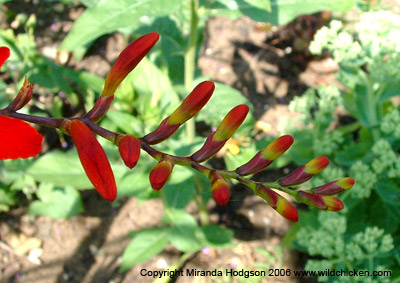 Name
Crocosmia 'Lucifer' (also called Montbretia 'Lucifer')
Genus  
Crocosmia
Species
Cultivar/variety
'Lucifer'
General description
Deciduous, cormous perennial grown for sprays of bright red flowers which appear in mid-summer. This is a lovely plant for mixed borders, informal gardens or prairie-style. Excellent planted with grasses. From a distance, the flower colour is very intense, though if you get up close, more colours are apparent at the base of the flower, as shown in the above photo of the flower buds. Easy to grow and fairly undemanding. Also good as a cut flower.
I was very excited when the flowers started opening and made a journal comment about it here: Garden journal 25th July 2006
Season of interest
Attractive foliage from early summer and flowers from mid-summer to autumn.
Key horticultural features
Habit - upright with arching stems. H: 1m S: 50cm.

Stem - round, smooth and firm. The stems are purple tinged with brown.

Leaves - upright, sword shaped and with a pleated look, mid-green.

Flowers -  funnel-shaped, in vivid red.
Cultural details
Aspect
Full sun to partial shade (I grow 'ordinary' Crocosmias in a north-facing bed and whilst they may not flower as intensely as those in full sun, they still put on a good show). It'll be worth experimenting with 'Lucifer'.
Soil
Moderately fertile, well-drained, humus-rich.
Hardiness
Frost hardy but may need some winter protection.
Maintenance
Leave foliage on over winter to help protect the corms and cover with dry bracken (or some like thing) in cold weather.
Generally disease free but may be susceptible to spider mite in dry summers.
Lift and divide congested clumps in spring, replanting at 8-10cm deep.
Propagation
By division in spring, just before growth starts.