Clematis florida
var.

sieboldiana
Garden Plant Information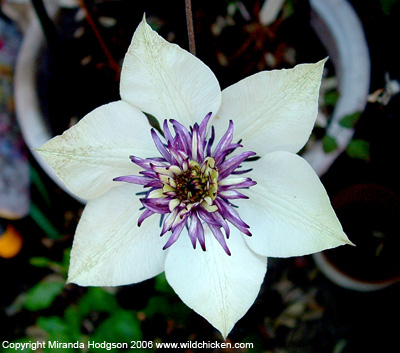 Name
Clematis florida var. sieboldiana (also calledClematis 'Sieboldii')
Genus  
Clematis
Species
florida
Cultivar/variety
var. sieboldiana
General description
A beautiful but capricious semi-evergreen Clematis, best grown in a conservatory or warm and sheltered spot. Although not the easiest to grow, seemingly having good and bad years, the successful years make this Clematis worth the effort. Not widely available, because of its moods, but worth finding.
I saw this one growing in a Lincolnshire greenhouse and was told that it was having a 'bad' year, but it was absolutely stunning. Very desirable indeed, if you're willing to coddle it a bit.
Season of interest
Flowers in summer.
Key horticultural features
Habit - twining, scrambling H: 2m S: 1m

Stems - slender and brittle.

Leaves - dark green with petioles (leaf stem) that twine to cling onto supports.

Flowers -  7-8cm across. White sepals tinged with pale green. A crown of purple and white stamens stands up in the centre of the flower.
Cultural details
Aspect
Warm and sheltered, may do best in a conservatory or greenhouse.
Soil
Well drained but moisture retentive. The roots prefer to be cool so plant the root ball 15cm below the soil surface. New shoots will grow from beneath ground level.
Hardiness
Not fully hardy. If grown outside it will need protection from frost.
Maintenance
Flowers on current year's growth so cut back hard at the end of the flowering season to two healthy buds. Feed with a handful of bonemeal after pruning and work it into the soil. Feed lightly whilst flowering or this will encourage foliage rather than flowers.
Propagation
Not easy, apparently. Try layering before attempting cuttings, as this may be more successful. Peg down healthy stems to the earth or to compost in a nearby pot. Remove the tip of the stem. Keep moist till roots appear then remove and pot on.