Sedum spurium
'Green Mantle'

Garden Plant Information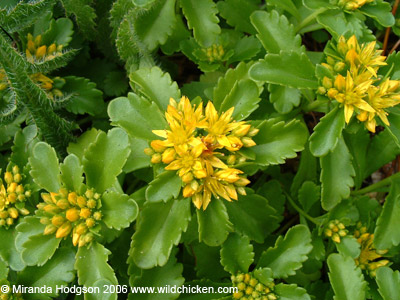 Name
Sedum spurium  'Green Mantle' (also called yellow stonecrop)
Genus  
Sedum
Species
spurium
Cultivar/variety
 'Green Mantle'
General description
Mat-forming, semi-evergreen ground cover plant with bright green foliage and clusters of yellow flowers in summer. Useful for poor and/or dry soil, rockeries and edging.
Very attractive to bees, hoverflies and butterflies.
Season of interest
Evergreen in mild areas (but not here in north Lincolnshire), flowers in summer.
Key horticultural features
Habit - lax, mat-forming. H: up to 10cm S: up to 50cm.

Stems - lax, trailing, green to mid-brown.

Leaves - fleshy, , glossy, serrated, bright green. Leaves form in tight whorls in spring before opening out more.

Flowers - clusters of bright yellow, star-shaped flowers borne in summer.
Cultural details
Aspect
Full sun
Soil
Well-drained, neutral to alkaline.
Hardiness
Hardy
Maintenance
In cold areas it may lose its leaves so cut back bare stems - it will sprout again in spring.
May be troubled by slugs and snails, and by vine weevils if grown in compost.
Propagation
By seed or division in spring. It also sets a few seeds, but hasn't become troublesome in my garden.