Stachys officinalis
'Alba'

Garden Plant Information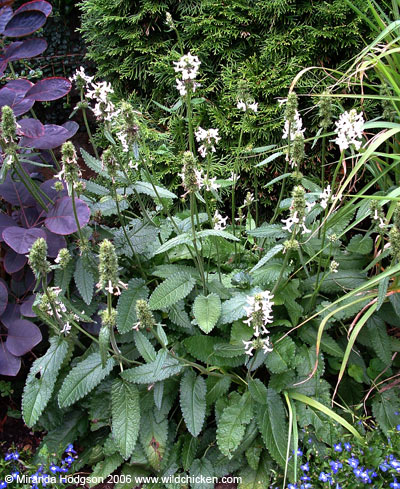 Name
Stachys officinalis 'Alba' (also called common white betony, bishop's wort, wood betony)
Genus  
Stachys
Species
officinalis
Cultivar/variety
 'Alba'
General description
Hardy herbaceous perennial, this is a white version of a UK wildflower which can be found in open woodland, heaths and meadows; the wild version has pink-purple flowers.  The basal leaves form a fairly dense clump while the flower stems are upright. Easy to grow, makes a good edging plant and can also be used for banks, gravel gardens, raised beds and rock gardens.
Noted for attracting wildlife, especially bees, so essential for wildlife gardens.
Season of interest
Flowers from early summer to autumn.
Key horticultural features
Habit - upright, clump-forming. H: 50cm S: 1m.

Stems - upright, slender, four-sided, slightly hairy.

Leaves - mid to dark-green, scalloped, oblong with rounded ends.

Flowers - borne in dense terminal spikes, white with pink shading, from early summer to autumn.
Cultural details
Aspect
Full sun to partial shade.
Soil
Well drained. Acid, Alkaline or Neutral.
Hardiness
Hardy.
Maintenance
Deadhead throughout summer to encourage further flowering  or leave on for the seed heads. Divide plant every couple of years or so to keep them robust.
May be attacked by slugs but otherwise fairly trouble free (I haven't had any trouble with my plants so far, and they've been in the ground for three years)
Propagation
Collect and sow seed in spring, or divide in spring.