Helleborus
x

hybridus

Party Dress Group


Garden Plant Information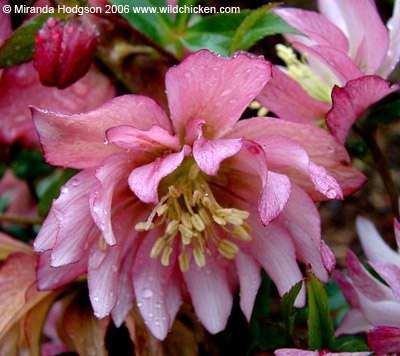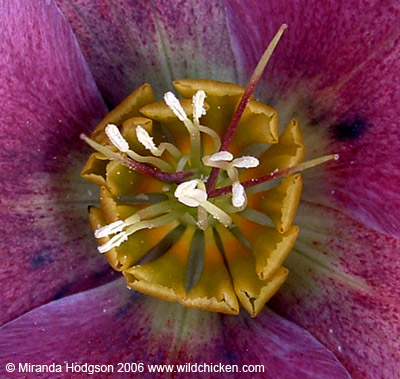 Close up showing Hellebore nectaries on a single flowered specimen
Name
Helleborus x hybridus Party Dress Group
Genus  
Helleborus
Species
x hybridus
Cultivar/variety
 Party Dress Group
General description
A hardy, clump-forming, herbaceous perennial, the Party Dress Group is derived from H. torquatus and H. orientalis hybrids, which originated at Blackthorn Nursery in Hampshire. Wonderful for winter flowers in an area of shade or dappled shade. Good for woodland edge gardens.
Although the Party Dress Group's flowers do not have nectaries in the way that single flowered types do, they still carry pollen, which is attractive to insects and a useful food source for early foraging bees.
Season of interest
Flowers in winter and early spring. Foliage all year round.
Key horticultural features
Habit - upright to slightly spreading. H: 30cm S:

Stem - rounded, sometimes slightly lax, mid green tinged with light brown.

Leaves - mid to dark-green, pedate with a leathery texture.

Flowers -  up to 8cm across, pointed oval petals in varying shades of pink. Actually, what appear to be petals on Hellebores are often sepals, while the petals themselves have changed to become the inner circle of 'nectaries' which can be seen at the base of the 'petals' - see photo above. The nectaries are usually green or gold in colour, with an attractive sheen to them. These have formed to attract early foraging bees to pollinate the flowers, rewarding them with nectar and pollen. In the Party Dress Group, the nectaries have reverted to true petals, but the flowers still have pollen to offer.

Seeds - the seed pods look rather like several inflated pea pods joined along their length, but with a spur on the end of each section.
Cultural details
Aspect
Sun to partial shade, does well in dappled shade.
Soil
Moist but well drained. Dislikes soggy soils.
Hardiness
Hardy. The specimen above was growing in North Yorkshire.
Maintenance
Cut back the old leaves in late winter or early spring as the new foliage and flowers emerge. This may help to control fungal leaf spot. Protect from strong, cold winds. Mulch annually in autumn.
May be prone to attack by aphids and snails.
Propagation
By seed, as soon as it is ripe, or by division after flowering. Hellebores will also self-seed though if you are growing more than one variety they are unlikely to the same as the parent plant, but you should still get attractive flowers.