Primula denticulata
Garden Plant Information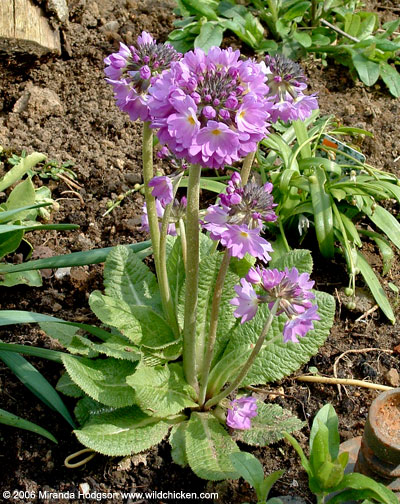 Name
Primula denticulata (also called drumstick primula)
Genus  
Primula
Species
denticulata
Cultivar/variety
General description
Hardy herbaceous or semi-evergreen perennials, with rosettes of green leaves, from the centre of which rises a straight stem carrying a sphere-shaped cluster of small lilac blooms. Attractive in rockeries, woodland gardens, and at the front of mixed borders.
A useful flowering plant for early summer, it is attractive to insects.
Season of interest
Flowers in early summer.
Key horticultural features
Habit - clump forming, H: up to 30cm, S: 30cm.

Stem - Upright, mid-green tinged with brown, straight.

Leaves - obovate, mid-green, crinkled and forming a rosette.

Flowers - borne in a dense spherical cluster on straight slender stems, the flowers are bell-shaped and lilac with white and yellow throats. Flowers are borne in late spring to early summer.
Cultural details
Aspect
Sun to partial shade. A woodland edge setting.
Soil
Prefers a moist, humus-rich, neutral to acid soil.
Hardiness
Hardy.
Maintenance
Cut flowers back after pruning if you don't want it to self-seed. Divide after flowering if the clump has become large.
Generally disease free, but may be attacked by a variety of pests including aphids, vine weevils, slugs and eelworms.
Propagation
Divide in early spring and be careful to keep moist till established. Sow seed in spring or autumn.