Schizostylis coccinea
'Major'

Garden Plant Information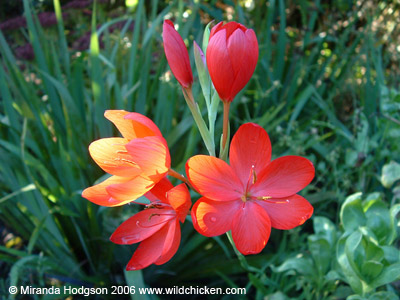 Name
Schizostylis coccinea 'Major' (also called crimson flag lily 'Major' and kaffir lily 'Major')
Genus  
Schizostylis
Species
coccinea
Cultivar/variety
'Major'
General description
Hardy, semi-evergreen, clump-forming, rhizomatous perennial grown for its sword-shaped leaves and brilliant red star-like flowers. Good for late summer colour in mixed borders when many other perennials are fading, and for Mediterranean, low maintenance, containers. Also very good for cutting.
This plant was a real surprise for me. I'd been given several plants by a friend and this one was in leaf only. The foliage is Iris-like, and as my friend had said she was giving me some Iris foetidissima I didn't really think any more about it, as the leaves are similar, and put it in the ground, though I did wonder why it hadn't flowered. When it bloomed in early September, it was a real pleasure to see that splash of rich warm colour. The flowers are plumper than those of the other Schizostylis coccinea in the garden, with broader and wider petals. The flowers are lovely to see when the sun is shining through them.
Season of interest
Flowers in late summer.
Key horticultural features
Habit - upright to lax, clump-forming. H: 1m S: 50cm.

Stem - erect to lax, slightly glaucous-green.

Leaves - erect, slightly glaucous-green, arranged in a fan.

Flowers - rich crimson, six-petalled, open. Up to 6cm across. Each stem bears up to 10 flowers.
Cultural details
Aspect
Sheltered and sunny.
Soil
Moist but well-drained, moderately fertile.
Hardiness
Hardy.
Maintenance
Protect from cold drying winds and mulch in winter after cutting back the faded stems. Deadhead to prolong flowering. Divide congested clumps every two to three years.
Generally pest and disease free.
Propagation
Divide in spring.