Gazania
'Sunkiss'
(F1 hybrid)

Garden Plant Information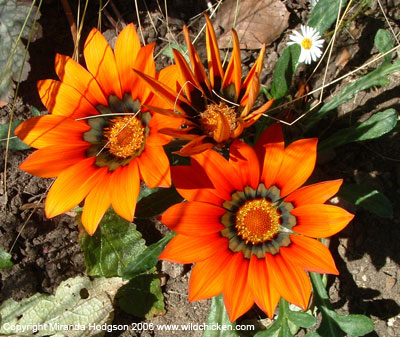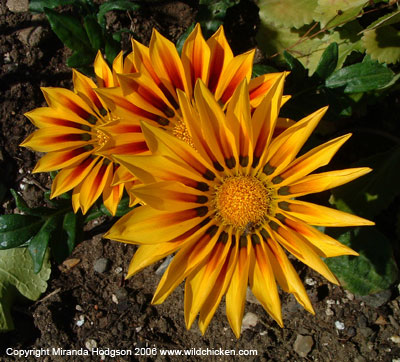 Name
Gazania 'Sunkiss' (F1 hybrid) (also called Treasure flower 'Sunkiss')
Genus  
Gazania
Species
Cultivar/variety
'Sunkiss'
General description
Spreading frost-tender perennial, usually grown as an annual, grown for showy daisy-like flowers that open in summer. Long-flowering, they add vibrant colour in sunny weather, but tend to close in wet or dull weather.
Can be grown in mixed beds and borders, containers and gravel gardens. I first saw this plant growing in a container on a friend's patio and thought it was so cheering. They're in-your-face bright but you can't help smiling at them. There was only the one pot, mind you, and they were softened by fine grasses in nearby containers. A little probably goes a long way.
Season of interest
Flowers in summer
Key horticultural features
Habit - spreading. H: up to 30cm S: up to 30cm.

Stem - round, pale to mid-green, straight.

Leaves - lance-like, mid to dark green above and white beneath.

Flowers - daisy-like with pointed petals, up to 6cm across. The flowers have orange or yellow centres, and the petals have distinct dark markings at the base before the shades lighten towards to the tip.
Cultural details
Aspect
Full sun.
Soil
Well drained, moderately fertile. Prefers loam or sand.
Hardiness
Frost tender so usually grown as an annual. May come through a mild winter.
Maintenance
Deadhead regularly to prolong flowering and water during prolonged hot, dry spells. In cold areas, lift, pot up and keep under glass over winter.
Generally disease free but may be bothered by slugs and snails.
Propagation
Heel cuttings in spring or summer. Take a side shoot with a 'heel' (where the side shoot still has a bit of stem attached to it from the parent plant). Trim the heel, remove lower leaves and pot into a cutting compost. Keep in a warm and humid place till rooted.