Primula
Silver-laced Group

Garden Plant Information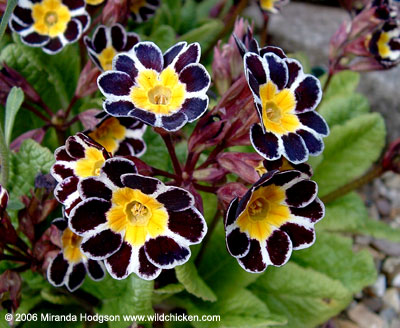 Name
Primula Silver-laced Group (also called silver laced primrose)
Genus  
Primula
Species
Cultivar/variety
Silver-laced Group
General description
Clump-forming, herbaceous perennial with polyanthus-type flowers, the petals of which are very dark chocolate brown (also sometimes dark red or blue) outlined with white. Easy to grow and provide useful early colour in cool, partially shady areas in moisture retentive soil.
Attractive to bees.
Season of interest
Flowers in spring.
Key horticultural features
Habit - clump-forming. H: up to 20cm S: up to 30cm.

Stem - flower stems are slender, round and longer-stalked than the wild type.

Leaves - mid-green, growing in a rosette, leaves are entire, slightly hairy and quite deeply veined.

Flowers - trumpet-shaped with five petals fused into a tube. Each petal is marked with bright yellow at the base before the colour changes to a rich dark chocolate brown. The petals are outlined in white, with a white line dividing each one.
Cultural details
Aspect
Prefers partial or dappled shade.
Soil
Moist but well-drained, reasonably fertile.
Hardiness
Hardy.
Maintenance
Divide plants in autumn.
May be attacked by slugs and snails.
Propagation
Divide plants in autumn. Seedlings will probably not come true so it is better to divide the plants if you want to keep them the same type.