Malva moschata
var.

alba
Garden Plant Information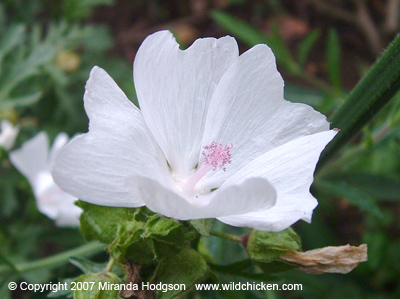 Name
Malva moschata var. alba (also called Musk mallow)
Genus  
Malva
Species
moschata var. alba
Cultivar/variety
General description
Upright herbaceous perennial grown for pure white flowers in summer, this is the white variety of the pink wild flower. It is easy to grow from seed and will flower in its first year and, although the plant itself is not long-lived, it will self seed if it is happy.
Attractive to wildlife, especially bees and bumblebees, so good for a wildlife garden or mixed border.
Season of interest
Flowers in summer.
Key horticultural features
Habit - generally upright, but can sprawl a bit and may need support. H: 1m S: 50cm

Stem - alternate, straight, mid-green, pale, lightly haired.

Leaves - the lower leaves are heart-shaped, whilst higher up the plant they are deeply lobed, with an attractive fern-like appearance.

Flowers - five slightly overlapping white petals arranged in a saucer shape, the flower is approximately 5cm across. The staminal column and anthers are pale pink.
Cultural details
Aspect
Sun or shade. Tolerates exposed areas.
Soil
Not fussy about soil pH, but it should be moist but well-drained or well-drained.
Hardiness
Hardy
Maintenance
Little needed - tidy up old stems and foliage in spring before it starts to grow again. Collect seed in late summer.
Susceptible to the same rust and leaf spot that affects hollyhocks, though not usually as severely. Not generally bothered by pests, except for occasional slug or snail damage.
Propagation
Easy by seed sown in spring, or take cuttings in summer.