Arisaema candidissimum
Garden Plant Information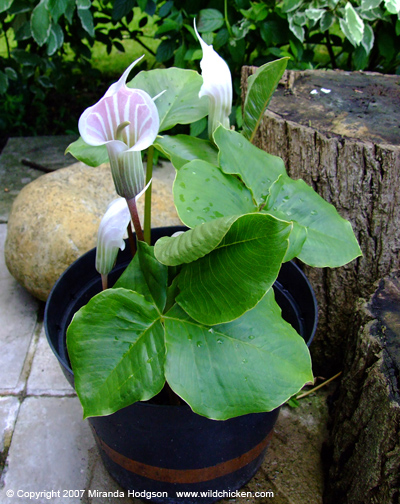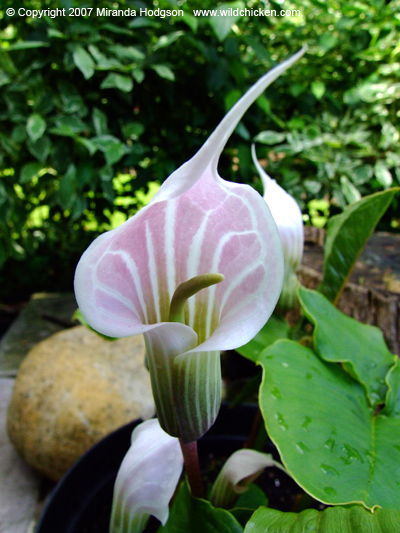 Name
Arisaema candidissimum (also called white-spathed jack in the pulpit)
Genus  
Arisaema
Species
candidissimum
Cultivar/variety
General description
Tuberous perennial. Low growing but architectural, grown for the pink and white striped spathes which are borne in summer. Good to provide interest in a cool, shady, moisture-retentive spot. The 'flowers' are not long-lasting but are quite a conversation piece when they are out.
Season of interest
Flowers and leaves in summer.
Key horticultural features
Habit - upright. H&S: up to 50cm

Stem - leaf stems are round, smooth and mid-green. Flower stems are round, smooth and dark pink-brown.

Leaves - palmately lobed, leathery texture, mid-green. The leaves grow larger after the flower stem has faded.

Flowers - the flowers are tiny and are clustered along the cigar-like spadix which is enclosed by the hooded spathes. They appear in mid-summer.

Fruit/seed - flowers are followed by a spike of red berries.
Cultural details
Aspect
Partial to full shade.
Soil
Moisture retentive, but not wet.
Hardiness
May need protection in colder winters or in cold areas. My Arisaema is in a pot facing north-east and, whilst it's in a fairly sheltered position, it has, so far, come to no harm without winter protection.
Maintenance
Little needed - do not allow tubers to dry out and protect from slugs, snails and vine weevils. I've found that copper tape around the pot has kept slugs and snails away.
Propagation
Seed can be sown in containers, in a cold frame, in spring or autumn, or remove and plant up tuber off-sets. These look like large flat potatoes.