Sedum rupestre
'Angelina'

Garden Plant Information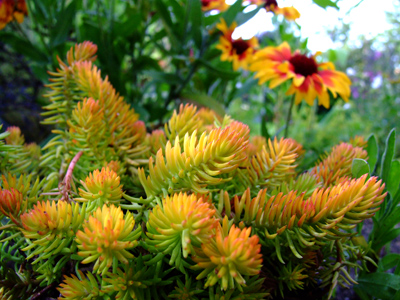 Name
Sedum rupestre 'Angelina' (also called stonecrop 'Angelina')
Genus  
Sedum
Species
rupestre
Cultivar/variety
 'Angelina'
General description
Evergreen succulent grown for ground cover. The leaves are a rich gold-green in summer, with orange tones in autumn and winter, so this is a good choice for both ground cover and colour all year round. Tolerates dry soil so useful for planting in walls, crevices, gravel gardens and Mediterranean gardens. Also for mixed borders and low maintenance gardens.
Flowers are attractive to beneficial insects.
Season of interest
All year round.
Key horticultural features
Habit - neat, creeping, low growing. H: up to 10cm. S: up to 50cm. Fairly fast growing, so may not be ideal for a small rockery.

Stem - lax, spreading across the ground or down walls.

Leaves - succulent, approx 1-1.5cm long, clustered along the stem, a bit like a succulent bottle brush. Leaves are green-gold in summer, gaining orangey tints in autumn and winter.

Flowers - Clusters of yellow, star shaped flowers borne in summer.
Cultural details
Aspect
Full sun for the best colour, but grows in semi-shade.
Soil
Neutral to alkaline, well drained.
Hardiness
Hardy.
Maintenance
Little needed - cut back to maintain size. Divide in spring every few years or when the plant outgrows its allotted space.
Propagation
Easy - break off about 8cm centimetres of stem, remove lower leaves and put it into damp compost. Keep just moist and roots will grow out in a few weeks. I found this out when a few stems were knocked off as I put the plant in the ground. I stuck them in moist compost and they rooted very quickly.
Seed - surface sow fresh seed in spring.