Leonotis leonurus
Garden Plant Information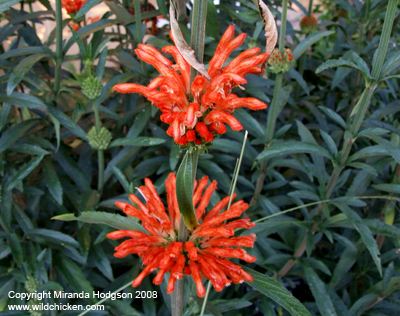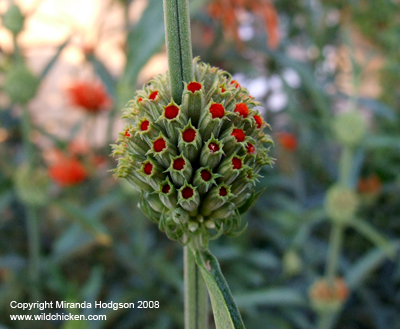 Name
Leonotis leonurus (also called Lion's ear and Lion's tail)
Genus  
Leonotis
Species
leonurus
Cultivar/variety
General description
Half hardy to tender perennial grown for bright orange-red flowers that clothe its long stems in round clusters during summer. If kept outside, it needs a warm and sheltered spot, or you can keep it in a pot and bring it indoors during winter. I saw these specimens growing against a sheltered wall at the Oxford Botanic Gardens, where they looked to have established well.
Not unlike Phlomis russeliana on first glance, Leonotis leonurus is part of the Lamiaceae (mint) family and is native to southern Africa.
Reputed to be a good wildlife plant, attracting bees and butterflies.
Season of interest
Flowers from late summer to autumn and foliage in summer and autumn. Seed heads attractive over winter, especially when frosted.
Key horticultural features
Habit - straight and upright. H&S: approx 1.5m.

Stem - straight, greyish-green, opposite, alternate, vertically ridged with light felt-like hairs. New stems grow from leaf axils.

Leaves - dark green, lanceolate, lacking petioles (stems). Some leaves are serrated, some smooth.

Flowers - from late summer to autumn, clusters of bright orange-red, almost stemless, flowers grow in tight whorls at regular intervals up the stem.
Cultural details
Aspect
Sheltered, full sun.
Soil
Well-drained, light. Will tolerate dry soil. Avoid wet soil.
Hardiness
Half-hardy to tender.
Maintenance
Once established, prune back in spring after the danger of frost has passed.
Propagation
Collect seed in autumn when dry - sow indoors before last frost.