Cornus sanguinea 'Midwinter Fire'
Garden Plant Information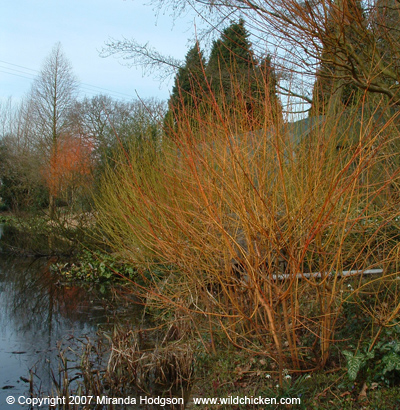 Name
Cornus sanguinea 'Midwinter Fire' (also called Common dogwood 'Midwinter Fire')
Genus  
Cornus
Species
sanguinea
Cultivar/variety
'Midwinter Fire'
General description
Clump forming deciduous shrub, mainly grown for winter stems which are shaded from yellow, through orange, to red and look very striking when they are bare of leaves during winter. It looks especially good when grown next to a pond or stream, so that the stems are reflected in the water.
Season of interest
Red/gold foliage in autumn, but mainly grown for richly coloured winter stems.
Key horticultural features
Upright habit, fast growing, spreads by creeping underground stems. H: 2m. S: 2.5m.

Leaf ovate, smooth edged, mid-green, turning red/gold in autumn.

Stems smooth, round, bright orange/red.

Small white flowers in late spring and early summer, followed by spherical blue-black fruits.
Cultural details
Aspect
Sun or partial shade, though full sun gives the best winter stem colour.
Soil
Fertile well drained soil.
Hardiness
Hardy to -25c.
Maintenance
Slower growing than C. sericea  so cut out only half of the stems back to two buds in March/April. Pruning promotes more of the colourful young stems to grow, but feed the plant well after pruning to give it the strength it needs to produce these.
Propagation
Hardwood cuttings in autumn or winter. For autumn cuttings, plant outside in a sheltered spot.