Sedum 'Herbstfreude'
Garden Plant Information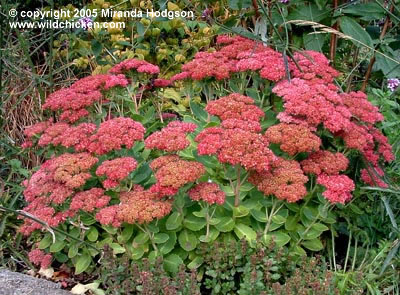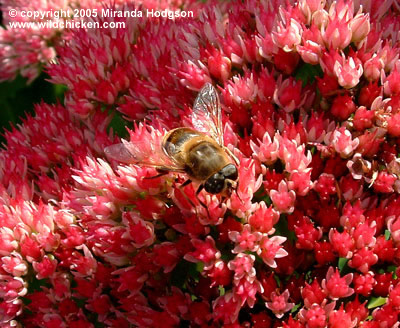 Name
Sedum 'Herbstfreude' (also called Stonecrop)
Genus  
Sedum
Species
Cultivar/variety
'Herbstfreude' (previously known as 'Autumn Joy')
General description
Herbaceous perennial grown for succulent leaves and flat heads of small pink flowers. Very attractive to bees, butterflies, hoverflies and other insects.
Season of interest
Flowers in late summer and autumn.
Key horticultural features
Habit - upright to start with, but has a tendency to flop over (see 'Chelsea chop' below). H: 60cm S: 60cm

Stems - round, straight, succulent, pale grey-green.

Leaves - rounded, crenate with no petiole. Succulent, grey-green.

Flowers -  flat tightly-packed heads of mid to dark pink flowers.
Cultural details
Aspect
Full sun or partial shade.
Soil
Sandy, well-drained, light. Tolerant of drought once established.
Hardiness
Hardy.
Maintenance
Cut back old flower stems in spring as the new leaf buds start to show at the base of the plant - they look like tiny cabbages. Apply a mulch of well-rotted garden compost or manure around the base of the plant. Lift and divide in spring or summer every three or four years.
Try the 'Chelsea chop'
Sedums are lovely plants, but the stems have a tendency to become floppy, making the plant less compact and maybe interfering with plants nearby. One way of dealing with this is to use a technique called the 'Chelsea chop' which involves cutting the plant back to about 10cm (4in) around the time of the Chelsea Flower Show at the end of May. This results in later flowering and a more compact, less floppy plant.
Propagation
By division in spring or by cuttings in spring or early summer.