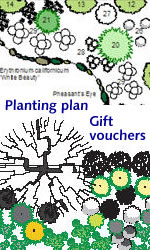 Garden planting plans by post
There are two options for postal planting plans:
Gift planting plans give you a low cost and quick-start planting solution for your garden based on a garden style.
These planting plans make a lovely gift for a birthday, Christmas or other special occasion. We will supply a printed Gift Certificate with the recipient's name, which can be sent to you or direct to the person you are giving the gift to, and only cost £125 so are great for a limited budget. The recipient contacts us and lets us have some guide info and the style plan for a specific bed or garden area is put together and sent out. Gift planting plans are for areas up to a total of 20 square metres.
 

Fully bespoke (custom) planting plans require a garden consultation and are then priced per square metre of planting area and based on your answers to the design questions and take into account soil type, area, shape, and micro climates to guarantee the best match of plants for your garden environment. Cost of custom planting plans depends on size of garden area. These plans require a garden visit and are only available in the Oxfordshire area.
Learn more about off-the-shelf planting plans
 
Learn more about bespoke garden planting plans